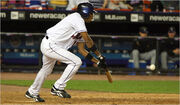 In a game against the Colorado Rockies in extra innings, in the 12th inning Endy Chavez made a drag bunt scoring Shawn Green from third base giving the Mets the 2-1 win over the Rockies. Gary Cohen was broadcasting the game on SNY just like he did for "the catch". The quote from the game was "A drag bunt, he gets it down! No play and the Mets win it!"
"the bunt" • "the catch" • Alex Anthony • Banner Day • Can't Anybody Here Play This Game? • Chico Escuela • Cowbell Man • Family Day • Frequency • Game 6 • Generation K • George Kalinsky • Grand Slam Single • Helmet Day • Jane Jarvis • Kiner's Korner • "Let's Go Mets Go" • Logos and uniforms of the New York Mets • Lovable Losers • Mathematically Alive • "Meet the Mets" • Mettle the Mule • Michael Sergio • Mr. Met • Mrs. Met • Sidd Finch • Sign Man • "The Boyfriend" • The Odd Couple • The Worst Team Money Could Buy: The Collapse of the New York Mets • Ya Gotta Believe • Mets in Popular Culture
Community content is available under
CC-BY-SA
unless otherwise noted.