The 1986 World Series was between the New York Mets and the Boston Red Sox.
The Mets fell short by one run being beaten by the Sox to a score of 1-0.
Mets 0-1
Red Sox 1-0
Boston takes the Series in a hot heap as the top the Mets 9-3.
Mets 0-2
Red Sox 2-0
Despite losing the first two the Mets came to top the Red Sox to a score of 7-1.
Mets 1-2
Red Sox 2-1
The Mets tied the Series at 2 as they beat the Red Sox 6-2.
Mets 2-2
Red Sox 2-2
Boston ended the tie by winning the game to a score of 4-2.
Mets 2-3
Red Sox 3-2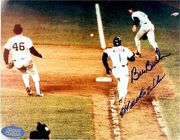 One of the most unforgettable moments in Mets history happend as in the bottom of the ninth Boston had the lead. But when Mookie Wilson hit a slow roller to the first base bag and Boston's first baseman Bill Buckner had the glove down but made an error and not focusing on the ball. Then it costed him to let the ball get by him and scored Ray Knight to give the Mets the 6-5 win in 10 innings. The most famous clip of Davey Johnson was he in depression and then sitting down in a rough way and hit his head hard on the wall behind him in the Mets dugout.
The final game gave New York something to cheer about as the Mets win the 1986 World Series for their second title in Franchise history. The Mets beat the Red Sox to a score of 8-5. Cause of Game 6 the Mets made the Mets win Game 6 and then Game 7 for the 1986 World Series win. If it wasn't for Mookie Wilson and Game 6 the Mets would have probably have never won this. But they did anyway.
Community content is available under
CC-BY-SA
unless otherwise noted.