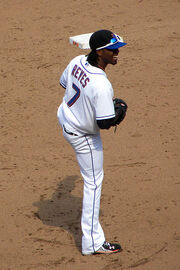 In 2009 the Mets had a lot of players on the DL. They were 20 different players on the DL. Below are the list of Categories of where the players belong on the DL.
Important Figures
[
]
Pitching
[
]
Catching
[
]
Infielders
[
]
OutFielders
[
]
Hitting/Homeruns/RBI's and Big Offensive Power/Defensive Power
[
]
Just Taking Up Space
[
]
Jose Reyes was the first Met to be on the DL. It happened when he hit a groundball and he got out and he hurt his knee on the first base bag in a game against the Los Angeles Dodgers.
Active roster
2 Justin Turner * 3 Omar Quintanilla * 5 David Wright * 6 Marlon Byrd * 12 Juan Lagares * 13 Josh Satin * 20 Anthony Recker * 22 Eric Young, Jr. * 28 Daniel Murphy * 29 Ike Davis * 30 David Aardsma * 32 LaTroy Hawkins * 33 Matt Harvey * 35 Dillon Gee * 39 Bobby Parnell * 44 John Buck * 45 Zack Wheeler * 47 Andrew Brown * 50 Scott Atchison * 52 Carlos Torres * 53 Jeremy Hefner * 56 Scott Rice * 58 Jenrry Mejia * 66 Josh Edgin * 71 Gonzalez Germen
Inactive roster
1 Jordany Valdespin * 9 Kirk Nieuwenhuis * 19 Zach Lutz * 23 Mike Baxter * 40 Tim Byrdak * 46 Greg Burke * 73 Robert Carson * -- Armando Rodriguez * -- Chris Schwinden
Disabled list
11 Ruben Tejada * 21 Lucas Duda * 27 Jeurys Familia * 48 Frank Francisco * 49 Jon Niese * 57 Johan Santana
Coaching Staff
Manager 10 Terry Collins * Bench Coach 7 Bob Geren * 1st Base Coach 26 Tom Goodwin * 3rd Base Coach 18 Tim Teufel * Hitting Coach 51 Dave Hudgens * Pitching Coach 59 Dan Warthen * Bullpen Coach 25 Ricky Bones * Bullpen Catcher 54 Dave Racaniello * Bullpen Catcher/batting practice pitcher 78 Eric Langill
Roster by Year
2009 Roster * 2010 Roster * 2011 Roster * 2012 Roster * 2013 Roster
Mets Opening Day Rosters by the year
2008 Mets Roster on April 5, 2008 * 2009 Mets Roster on April 5, 2009 * 2010 Mets Roster on April 5, 2010 * 2011 Mets Roster on April 1, 2011 * 2012 Mets Roster on April 5, 2012 * 2013 Mets Roster on April 1, 2013
Leadership
Key Personnel * Owners * Presidents * Managers * Staff * Executives * Scouts
Other
Season Departures * September Callups * 2009 DL * All-Time Roster * Minors * Years/Seasons