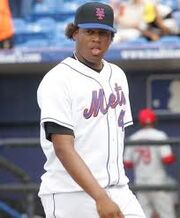 Ambiorix Burgos (born April 19, 1984 in Nagua, Dominican Republic) is a right-handed pitcher in Major League Baseball who is currently a free agent. On March 12, 2009, he was convicted for the September 2008 assault of his girlfriend.
On December 5, 2006, Burgos was traded by the Royals to the New York Mets for starting pitcher Brian Bannister.
In 2007, Burgos began the season on the Mets 25-man roster, but was sent to Triple-A soon thereafter. According to an Associated Press report on August 28, 2007, general manager Omar Minaya indicated that Burgos underwent Tommy John surgery and would be out for a prolonged period. On August 6, 2008, Burgos pitched to nine batters in his first minor league rehab game.
On September 9, 2008, Burgos was arrested for assaulting his girlfriend. Prosecutors say he repeatedly punched her on the back, bit her and slapped her. On March 12, 2009, a jury convicted Burgos for the assault. Sentencing was scheduled for April 3.
On October 1, 2008, Burgos was indicted on charges of hit and run in his native Dominican Republic. Sources say that Burgos struck two women in his SUV and drove off. The women later died of their injuries. Burgos turned himself in to authorities on October 7.
On December 12, 2008, the New York Mets did not offer Burgos a new contract and he became a free agent.
Community content is available under
CC-BY-SA
unless otherwise noted.