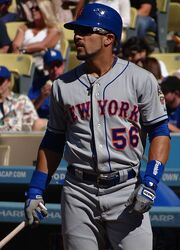 Andrés "Yungo" Torres Jr. (born January 26, 1978 in Aguada, Puerto Rico) is a Major League Baseball Puerto Rican professional baseball outfielder who is a free agent.
2011
[
]
Age: 34 (born January 26, 1978)
Position: Outfielder
Bats: Switch Throws: Right
Number: 56
Acquired: Trade
Contract: 1 year $2.7k
He was traded on December 7 to the Mets from the San Francisco Giants along with Ramon Ramirez for Angel Pagan.
2012
[
]
Torres began opening day in center field and he strained his calf in which he had suffered in Spring Training. He was moved to the DL on April 7 as his spot on the roster was replaced by Kirk Nieuwenhuis. On April 30 Torres came off the DL and Zach Lutz was sent down to make room for him. On November 30 he was non-tendered by the Mets along with Manny Acosta and Mike Pelfrey.