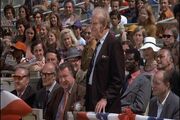 Bang the Drum Slowly is a 1973 film adaptation of the 1956 baseball novel of the same name by Mark Harris. It was previously dramatized in 1956 on the U.S. Steel Hour with Paul Newman, Albert Salmi, and George Peppard.
It was directed by John D. Hancock and stars Michael Moriarty and a then-little-known Robert De Niro as baseball teammates. De Niro's performance in this film and in Mean Streets, released two months later, brought him widespread acclaim.
In the opening credits, it is noted that the "baseball sequences [were] filmed at Yankee and Shea stadiums," and the New York Mammoths — the fictional team depicted in the story — play their home games at a very recognizable Shea Stadium. The Mets don't exist in this movie and the one Met fan in the crowd was a mistake that went unnoticed during filming.
The non-Florida baseball sequences were filmed at New York City's Yankee and Shea Stadiums during late May and June 1972, when the Yankees and Mets were on extended roadtrips. The opening scenes of the movie show the stars running on the warning track at Yankee Stadium; in addition, the visitors' clubhouse, the walkway from the Yankees' dugout, and the front of the right-field bullpen also were used in the "away-game" sequences. The few scenes of Yankee Stadium – particularly the wide pan at the end of the rain delay sequence – are some of the best clips of the stadium before the 1973–1976 renovation. Dugout shots of "home" games were shot at Yankee Stadium.
The "home" game sequences were filmed in Shea Stadium. The filmmakers also used the walkway that connected the Mets clubhouse, dugout, and the TV studio that was the home of Kiner's Korner post-game show for the singing scene. The Opening Day/band clips came from Major League Baseball (MLB); they were recorded before the fourth game of the 1969 World Series at Shea.
In reviews, Wiggen is often referred to as being modeled after Tom Seaver, though not in the book, which was written when Seaver was 12.