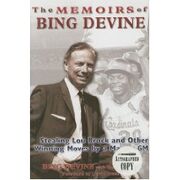 Vaughan Pallmore "Bing" Devine (March 1, 1916 – January 27, 2007) was an American front office executive in Major League Baseball. In the prime of his career, as a general manager, the executive who is responsible for all baseball operations, Devine was a major architect of four National League champions and three World Series champions in the six years between 1964 and 1969.
New York Mets
Edit
He joined the Mets as an assistant to the GM to George Weiss from 1965-1966. Devine served as the second General Manager/President of the New York Mets only for the 1967 season. He replaced Weiss. He was replaced by Johnny Murphy as GM and by Joan Whitney Payson as President. He was the last GM of the Mets to be president of the ball club.
Weiss * Devine * Payson * de Roulet * Wilpon * Katz
Weiss * Devine * Murphy * Scheffing * McDonald * Cashen * Harazin * McIlvaine * Phillips * Duquette * Minaya * Ricco (interim) * Alderson
Community content is available under
CC-BY-SA
unless otherwise noted.