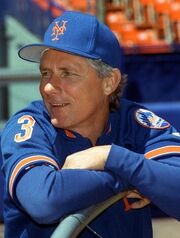 Derrel McKinley "Bud" Harrelson (born June 6, 1944) is a former Major League Baseball shortstop who played for the New York Mets, Philadelphia Phillies and Texas Rangers from 1965 to 1980.
New York Mets
[
]
He started his playing career with the New York Mets from 1965-1977. He made his debut on September 2. He is known for his legendary fight with Pete Rose. For more see it here.
Harrelson was manager for the team from 1990-1991. He was also coach from 1982, 1985-1990. As the third base coach he replaced and was replaced by Sam Perlozzo. He replaced Davey Johnson. He was replaced by Mike Cubbage.
Stengel * Westrum * Parker * Hodges * Berra * McMillan * Frazier * Torre * Bamberger * Howard * Johnson * Harrelson * Cubbage * Torborg * Green * Valentine * Howe * Randolph * Manuel * Collins