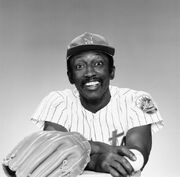 Chico Escuela (literal translation: "Boy School", but more likely "Little School," as Chico means small or little when used as an adjective - essentially little education.), played by Garrett Morris, was the Weekend Update sports correspondent. A retired Hispanic ballplayer with limited command of the English language, he wrote the tell-all book Bad Stuff 'Bout the Mets (sample: "Tom Seaver - he once borrow Chico's soap and no give it back"). In spring training of 1979, Chico's unsuccessful comeback attempt was documented on several Update segments. The character was first introduced in a St. Mickey's Knights of Columbus sketch, but subsequently Escuela appeared solely on Update.
Typically he would be introduced by Jane Curtin, thus compelling him to say, "Thank you, Hane!" Soon would follow his standard catchphrase: "Beisbol been bery, bery good to me!" Sammy Sosa, at the peak of his stardom in the late 1990s, would sometimes repeat that line as a joke, to the media, albeit in his true-to-life strong Hispanic accent.
The episodes were actually filmed at the Miller Huggins Field in St. Petersburg, Florida.
"the bunt" • "the catch" • Alex Anthony • Banner Day • Can't Anybody Here Play This Game? • Chico Escuela • Cowbell Man • Family Day • Frequency • Game 6 • Generation K • George Kalinsky • Grand Slam Single • Helmet Day • Jane Jarvis • Kiner's Korner • "Let's Go Mets Go" • Logos and uniforms of the New York Mets • Lovable Losers • Mathematically Alive • "Meet the Mets" • Mettle the Mule • Michael Sergio • Mr. Met • Mrs. Met • Sidd Finch • Sign Man • "The Boyfriend" • The Odd Couple • The Worst Team Money Could Buy: The Collapse of the New York Mets • Ya Gotta Believe • Mets in Popular Culture
Community content is available under
CC-BY-SA
unless otherwise noted.