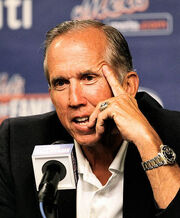 David Allen "Davey" Johnson (born January 30, 1943 in Orlando, Florida) is an American Major League Baseball (MLB) player and current manager of the Washington Nationals.
He served as the manager for the New York Mets from 1984-1990. He lead the team to their second world series win in 1986 against the Baltimore Orioles in the 1986 World Series. He replaced Frank Howard. He was replaced by Bud Harrelson.
He is still the winningest manager in Mets history.
Inducted to the Mets Hall of Fame on August 1.
Stengel * Westrum * Parker * Hodges * Berra * McMillan * Frazier * Torre * Bamberger * Howard * Johnson * Harrelson * Cubbage * Torborg * Green * Valentine * Howe * Randolph * Manuel * Collins
Community content is available under
CC-BY-SA
unless otherwise noted.