David Allen Wright (born December 20, 1982) is a Major League Baseball infielder for the New York Mets. He has appeared on the second edition of Going Home with Kevin Burkhardt and on Mets Hall of Fame: Mike Piazza. Dave Racaniello is one of David's best friends.
2001-2003
Edit
He was drafted in the 2001 amateur draft by the Mets. He played in the minors since then.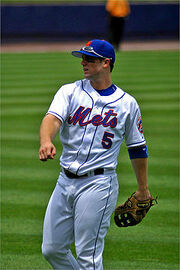 He made his debut on July 21, 2004.
On August 9 he made 2 bare handed catches one of them was behind the 3rd base bag and the other one was in the air into home plate before crashing into the ground. It was against the San Diego Padres.
Wright signed a 6 year contract on August 6 with a club option for 2013. The contract will pay him $1 million in 2007, $5 million in 2008, $7.5 million in 2009, & $10 million in 2010, and will pay him $14 million in 2011, and $15 million in 2012.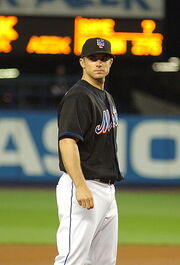 On September 16 he joined the 30-30 club as he became the 29th and one of the youngest in the major leagues to join the club. He became the 3rd met to reach the 30-30 club before his 25th birthday. The other 2 Mets to do so were Howard Johnson and Darryl Strawberry.
On April 13 he hit his 100th career homerun. On August 7 he hit his first walkoff homerun of his career.
He hit the first Met homerun at Citi Field in 2009 against the San Diego Padres on April 13. During the season at home in Citi Field on August 15 he was hit in the head by pitcher Matt Cain of the San Francisco Giants. He was added to the DL on August 16. He returned when the Mets were on the road @ the Rockies on September 1.
Wright did the same thing again in 2010 in his first at-bat of the season he hit a opposite field 2-run homerun (him and Castillo) in a Mets 7-1 win against the Florida Marlins on April 5. Wright is the only player to hit the first homerun of Citi Field in two back to back years on Opening Day.
On June 12 Wright batted as the DH batting 3rd in the lineup against the Baltimore Orioles and was replaced by Fernando Tatis who played at 3rd base.
Age: 29 (born December 20,1982)
Position: Third Base
Bats: Right Throws: Right
Number: 5
Acquired: Draft
Contract: 7 year, $138 million
On April 5 he singled off Philadelphia Phillies pitcher Cole Hamels to reach his 90th career game-winning RBI, surpassing Mike Piazza for the most in Mets history.
On May 16 Wright had a stress fracture and was placed on the DL on May 18. Before he could be on the active roster the Mets sent down Nick Evans.
On July 22 Wright returned back to the club after a week of rehabbing with single a Port St.Lucie. He has played the all the entire games with the minor league club. He returned as the Mets started their 10 game road trip against the last place rival Florida Marlins. The won to a score of 7-6. To see more on his return see The Wright Return. On July 24 he hit his first homerun since his return in a 5-4 loss to the Fish.
He played his first game as shortstop on August 7 in Murphing Out and in the Tomato Crushed Game. He hit his first homerun at home from his return from the DL as Baxter,Duda Rally over Padres. Also he drove in the final run while sliding into home as he bumped into homeplate umpire Marty Foster into his right leg which bumped his head but was alright.
From the start of the season Wright drove in the first runs of the game from April 5 until April 9 against the Braves and Nationals. On how he drove in the runs see Mets Sweep Braves. On May 8 he committed a running mistake but avoided being out as the Mets got the tying run to score as the Mets later won to a score of 7-4 against the Philadelphia Phillies. For more see Mets Sweep Phillies.
On October 30 his option for 2013 was picked up by the Mets. On November 30 he signed a 7 year deal worth $138 million which included his option for 2013. With this signing it became the biggest in team history.
On March 21 the Mets announced after a spring training game, Wright was named the 4th captain of the team joining Keith Hernandez, Gary Carter and John Franco.
Active roster
2 Justin Turner * 3 Omar Quintanilla * 5 David Wright * 6 Marlon Byrd * 12 Juan Lagares * 13 Josh Satin * 20 Anthony Recker * 22 Eric Young, Jr. * 28 Daniel Murphy * 29 Ike Davis * 30 David Aardsma * 32 LaTroy Hawkins * 33 Matt Harvey * 35 Dillon Gee * 39 Bobby Parnell * 44 John Buck * 45 Zack Wheeler * 47 Andrew Brown * 50 Scott Atchison * 52 Carlos Torres * 53 Jeremy Hefner * 56 Scott Rice * 58 Jenrry Mejia * 66 Josh Edgin * 71 Gonzalez Germen
Inactive roster
1 Jordany Valdespin * 9 Kirk Nieuwenhuis * 19 Zach Lutz * 23 Mike Baxter * 40 Tim Byrdak * 46 Greg Burke * 73 Robert Carson * -- Armando Rodriguez * -- Chris Schwinden
Disabled list
11 Ruben Tejada * 21 Lucas Duda * 27 Jeurys Familia * 48 Frank Francisco * 49 Jon Niese * 57 Johan Santana
Coaching Staff
Manager 10 Terry Collins * Bench Coach 7 Bob Geren * 1st Base Coach 26 Tom Goodwin * 3rd Base Coach 18 Tim Teufel * Hitting Coach 51 Dave Hudgens * Pitching Coach 59 Dan Warthen * Bullpen Coach 25 Ricky Bones * Bullpen Catcher 54 Dave Racaniello * Bullpen Catcher/batting practice pitcher 78 Eric Langill
Roster by Year
2009 Roster * 2010 Roster * 2011 Roster * 2012 Roster * 2013 Roster
Mets Opening Day Rosters by the year
2008 Mets Roster on April 5, 2008 * 2009 Mets Roster on April 5, 2009 * 2010 Mets Roster on April 5, 2010 * 2011 Mets Roster on April 1, 2011 * 2012 Mets Roster on April 5, 2012 * 2013 Mets Roster on April 1, 2013
Leadership
Key Personnel * Owners * Presidents * Managers * Staff * Executives * Scouts
Other
Season Departures * September Callups * 2009 DL * All-Time Roster * Minors * Years/Seasons
Community content is available under
CC-BY-SA
unless otherwise noted.