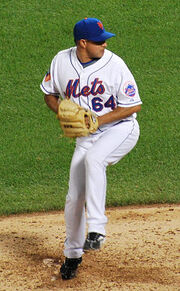 Elmer Dessens Jusaino (born January 13, 1971) is a pitcher who is a free-agent.
He signed with the mets in February of 2009. He made his day view on June 23. On June 30 he was DFA'd. When Jon Niese went on the DL he was called up again on August 6. In December he signed a minor league deal.
On May 21,2010 the Mets called up Dessens when John Maine was placed on the DL. He came into the game by taking the loss against the Yankees in the Mets 2-1 loss.