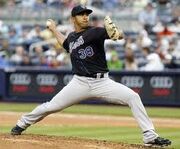 Fernando Alexis Nieve (born July 15, 1982) is a pitcher who is currently with the Doosan Bears.
2009
[
]
He was claimed off waivers by the Mets from the Houston Astros in March as he was supposed to take over for an injured J.J. Putz. But however he would later join the 2009 DL. He was one of the 3 Fernando's for the Mets. For that article see it here.
2010
[
]
Nieve is also on of the candidates for Oliver Perez's spot in the pitching rotation. He will be facing these guys for it
It was Dickey who was chosen.
On May 29, Nieve started for the Mets against the Milwaukee Brewers who didn't get that much support as the Mets wore the New York Cubans uniforms and the Brewers wore the Milwaukee Bears uniforms to honor the Negro Leagues. Nieve gave up 2 homeruns and was taken out of the game by going 2 IP and took the loss making his record 1-3 and threw around 60 pitches. As they lost to a score of 8-6.
On July 22, Nieve was put for DFA and was replaced by Manny Acosta and was sent down to the minors.