John Francis Cashen (September 13, 1925 - June 30, 2014) was a Major League Baseball general manager. He is widely considered to be the architect of the World Champion 1986 New York Mets.
New York Mets
[
]
Cashen served as the GM for the Mets from 1980-1991. From 1980 to 1988 he also served as Chief Operating Officer and Executive Vice President.
He replaced Joe McDonald and was replaced by Al Harazin. After his days as GM he worked again as a chief operating officer in 1992 and as a consultant in 1993. In November of 1998 he was named the interim GM after Steve Phillips had a sexual harassment lawsuit. He stayed there for a week.
Hall of Fame
[
]
On August 1 he was inducted into the Mets hall of fame along with Davey Johnson, Darryl Strawberry, and Doc Gooden.
Death
[
]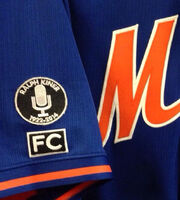 Cashen died on June 30, 2014 at the age of 88. On July 4 the Mets unveiled a patch to honor the passing of Cashen. It was worn underneath the Ralph Kiner (who also passed away in 2014) patch on the right sleeve on all of the uniforms.
Weiss * Devine * Murphy * Scheffing * McDonald * Cashen * Harazin * McIlvaine * Phillips * Duquette * Minaya * Ricco (interim) * Alderson