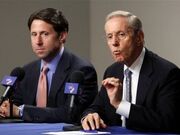 Fred Wilpon (born November 22, 1936 in Bensonhurst, Brooklyn) is a real estate developer, baseball executive and the majority owner of the New York Mets. His son Jeff Wilpon is the current COO of the Mets and his brother in-law Saul Katz is the current president of the Mets.
New York Mets
[
]
Wilpon bought a one-percent stake in the Mets in 1980, when Charles Shipman Payson sold the team, with Doubleday & Co. holding the remaining interest. In 1986, Doubleday president Nelson Doubleday, Jr. sold off his company, and he and Wilpon each bought a 50 percent stake in the Mets to become full partners. In 2002, the Wilpon Family purchased the remaining 50% of the Mets from Doubleday for $135 million.
Wilpon served as president of the team between 1980 to 2002, as Chief Executive Officer since 1980 and as Chairman of the Board since 2003. As president he replaced Lorinda de Roulet. He was replaced by Saul Katz.
Sterling Equities
[
]
He founed the company along with the Saul Katz in 1972. Wilpon currently serves as Co-founder and Chairman of Sterling Equities and it's affiliate Sterling American Property.
External Links
[
]
Joan Whitney Payson * Charles Shipman Payson * George Herbert Walker, Jr. * Doubleday & Co. * Nelson Doubleday, Jr. & Fred Wilpon * Fred Wilpon/Sterling Equities