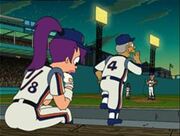 Futurama is an American animated science fiction sitcom created by Matt Groening and developed by Groening and David X. Cohen for the Fox Broadcasting Company. The series follows the adventures of a late-20th-century New York City pizza delivery boy, Philip J. Fry, who, after being unwittingly cryogenically frozen for one thousand years, finds employment at Planet Express, an interplanetary delivery company in the retro-futuristic 31st century. The series was envisioned by Groening in the late 1990s while working on The Simpsons, later bringing Cohen aboard to develop storylines and characters to pitch the show to Fox.
The Mets in the future are called the New New York Mets. Their first appearance was in A Leela of Her Own where Leela becomes the starting pitcher for the team. Her number is 7/8 since the team retired all of the whole numbers and had to resort to giving fractions as player numbers. On the team there is a clown on the team who is a infielder. There is a skipper or coach on the team possibly was a player with an original number because there's an 4 on his jersey. In the episode The New York Mets' 1980s slogan was "Baseball the Way it Ought to Be!" the New New York Mets' slogan is "Blernsball the Way it Oughtn't Be".
Goofs in the episode is that not all whole numbers could have been retired because they are infinite. In the episode "Anthology of Interest I" Shea Stadium is shown to be a complete bowl, but in this episode, it is shown to be more like the actual Shea Stadium, and is open in the outfield.
The owner of the team is Abner Doubledeal.
In The Luck of the Fryish it starts out with Mrs. Fry who is in labour. However, her attention seems to be on her portable radio, which is tuned in to a Mets game.
In Anthology of Interest I, Giant Bender rips Shea Stadium from its foundations, a sign indicates that the Mets were the World Series Champions in 1969 and 1986, which means that they won't win between now and the year 3000! This is further stated in the episode "A Leela of Her Own".
When Bender boils Zoidberg inside Shea Stadium, the stadium is a complete bowl. In real life, Shea was open in the outfield (and torn down in 2009). However, considering Old New York was destroyed, this was likely meant to be a completely new Shea Stadium from the one the Mets used from 1964-2008.