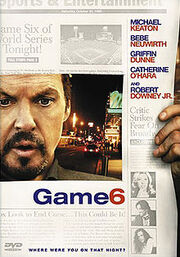 Game 6 is a 2005 American film directed by Michael Hoffman, first presented at the Sundance Film Festival in 2005 and released in the United States in 2006.
The film depicts the events of October 25, 1986 in the life of Nicky Rogan, specifically the opening of his latest play juxtaposed with Game 6 of the 1986 World Series between the Boston Red Sox and the New York Mets.
Throughout the film, radio pundits and fans discuss the game and Nicky adds his perspective by observing, "I hate the Mets. I can't respect them. 'Cause when the Mets lose, they just lose... But the Red Sox... we have a rich history of really fascinating ways to lose crucial games... defeats that just keep you awake at night."
When Dave Henderson homers in the top of the tenth inning, giving the Sox a 4-3 lead, Nicky's companion observes that "life is good" — and Nicky adds, "Baseball is life." But we all know what happened in the bottom of the 10th and, for Red Sox fans, baseball also is a reflection of life's frustrations and heartbreak. When Mookie grounds to Buckner, Nicky visualizes Buckner making the play. That, of course, is an illusion. As a reality-test, the actual footage is seen — and re-seen onscreen.
"the bunt" • "the catch" • Alex Anthony • Banner Day • Can't Anybody Here Play This Game? • Chico Escuela • Cowbell Man • Family Day • Frequency • Game 6 • Generation K • George Kalinsky • Grand Slam Single • Helmet Day • Jane Jarvis • Kiner's Korner • "Let's Go Mets Go" • Logos and uniforms of the New York Mets • Lovable Losers • Mathematically Alive • "Meet the Mets" • Mettle the Mule • Michael Sergio • Mr. Met • Mrs. Met • Sidd Finch • Sign Man • "The Boyfriend" • The Odd Couple • The Worst Team Money Could Buy: The Collapse of the New York Mets • Ya Gotta Believe • Mets in Popular Culture