Jurassic World: Dominion Dominates Fandom Wikis - The Loop
Play Sound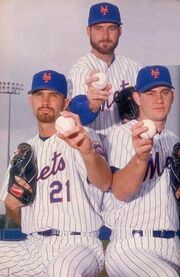 Generation K was the collective nickname given to a trio of young starting pitchers in the New York Mets organization in 1995, consisting of Bill Pulsipher, Jason Isringhausen, and Paul Wilson. All three players succumbed to pitching-related injuries within a year.
Bill Pulsipher
[
]
Bill Pulsipher arrived first, in June 1995, after pitching over 200 minor league innings as a 21-year old. Between the majors and the minors in 1995 he threw for 218 more innings for a 3.98 ERA. Pulsipher missed all of 1996 and most of 1997 with a torn elbow ligament. After a brief comeback bid in 2001 it appeared his career had ended.
Jason Isringhausen
[
]
Isringhausen came next, in July 1995, and was the Mets' best pitcher down the stretch with a 9–2 record and a 2.81 ERA. In 1996 he struggled with a pulled rib-cage muscle, bone spurs, and a torn labrum contributing to a 4.71 ERA. He had only six starts in 1997 and was ineffective before suffering a broken wrist. He missed all of 1998 recovering from reconstructive elbow surgery but was traded to the Oakland Athletics for reliever Billy Taylor.
In February 2011, Isringhausen returned to the Mets, signing a minor league deal with the team. After spending time in the minors, Isringhausen performed well in his return to the Majors with the Mets and eventually landed the job of setup man man for Mets closer Francisco Rodriguez. After Rodriguez was traded to the Milwaukee Brewers in the middle of the season, Isringhausen was slotted into the closer role and eventually earned his 300th save against the San Diego Padres.
Paul Wilson
[
]
With the first pick in the 1994 first-year player draft the Mets selected what many thought as the most promising member of the trio, college phenom Paul Wilson. Featuring a strong fastball/slider combo he made the majors in early 1996 after strong minor league numbers. He had often been accused of possessing poor mechanics, and the stress put on his pitching arm haunted him early. After pitching 187 innings in the minors the year before, he spent much of 1996 on the disabled list.
"the bunt" • "the catch" • Alex Anthony • Banner Day • Can't Anybody Here Play This Game? • Chico Escuela • Cowbell Man • Family Day • Frequency • Game 6 • Generation K • George Kalinsky • Grand Slam Single • Helmet Day • Jane Jarvis • Kiner's Korner • "Let's Go Mets Go" • Logos and uniforms of the New York Mets • Lovable Losers • Mathematically Alive • "Meet the Mets" • Mettle the Mule • Michael Sergio • Mr. Met • Mrs. Met • Sidd Finch • Sign Man • "The Boyfriend" • The Odd Couple • The Worst Team Money Could Buy: The Collapse of the New York Mets • Ya Gotta Believe • Mets in Popular Culture