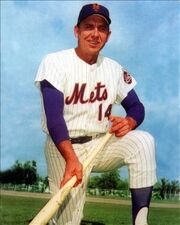 Gilbert Ray Hodges (April 4, 1924 – April 2, 1972) was an American Major League Baseball first baseman and manager.
Hodges was one of the original members of the 1962 New York Mets team. He played with the team from 62-1963. He was the first Mets player to hit a homerun.
Hodges served as manager for the Mets from 1968-1971. He lead the team to winning the 1969 World Series against the Baltimore Orioles. He replaced Salty Parker and he was replaced by Yogi Berra.
His number 14 was retired in 1973. The Mets retired his #14 uniform and wore a black armband on the left sleeves of their uniform jerseys during the 1973 season in honor of Hodges.
Stengel * Westrum * Parker * Hodges * Berra * McMillan * Frazier * Torre * Bamberger * Howard * Johnson * Harrelson * Cubbage * Torborg * Green * Valentine * Howe * Randolph * Manuel * Collins
Community content is available under
CC-BY-SA
unless otherwise noted.