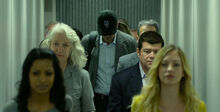 Gone Girl is a 2014 American psychological thriller film directed by David Fincher. The screenplay by Gillian Flynn was based on her 2012 novel of the same name. The film stars Ben Affleck and Rosamund Pike. Set in Southeast Missouri the story begins as a mystery that follows the events surrounding Nick Dunne (Affleck), who becomes the primary suspect in the sudden disappearance of his wife, Amy (Pike).
In one scene at the airport, in order to avoided being seen after being accused of being involved with his wife's disappearance, he hides his face by wearing a black Mets hat as he boards the plane to return home.
According to The New York Times, Fincher originally wanted Affleck to wear a Yankees hat. Affleck's character Nick Dunne used to live in Manhattan and was briefly visiting while trying to keep a low profile. It was a request the actor absolutely refused considering he is a diehard Red Sox fan.
"I said, 'David, I love you, I would do anything for you,'" Affleck told the NYT. "'But I will not wear a Yankees hat. I just can't. I can't wear it because it's going to become a thing, David. I will never hear the end of it. I can't do it.' And I couldn't put it on my head."
"It was an uprising; it was a coup, I rioted," Affleck added, "It was a one-man riot against the Yankees."
Affleck said only after "a lot of shuttle diplomacy, so much back-and-forth" the two agreed he could wear a Mets hat.