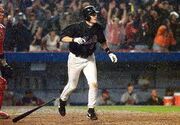 The Grand Slam Single is a reference to the hit that ended Game 5 of the 1999 National League Championship Series between the New York Mets and the Atlanta Braves. The game was played on October 17, 1999 at Shea Stadium.
The game was tied 2-2 going into the top of the 15th inning,until Mets pitcher Octavio Dotel gave up an RBI triple to Keith Lockhart, giving the Braves a 3-2 lead.
In the bottom of the 15th inning, the Mets loaded the bases against Braves relief pitcher Kevin McGlinchy. Mets catcher Todd Pratt drew a bases loaded wal, tying the score 3-3.
The next batter was Mets third baseman Robin Ventura. Ventura crushed the 2-1 pitch over the wall in right-center for an ostensible grand slam, winning the game for the Mets and driving the Mets players and fans into a frenzied celebration. Ventura, however, never reached second base as Todd Pratt, the runner who was on first, picked up Ventura in celebration. Subsequently, Ventura was mobbed by his teammates, never finishing his trot around the bases. Because he failed to touch all four bases, the hit was officially scored a single. Roger Cedeno, the runner on third at the time, was ruled the only runner to have crossed home plate before the on-field celebration began and the Mets were awarded a 4-3 victory. Thus, Ventura was only credited with a single and one RBI. (It is worth noting that there has never been an actual game-winning grand slam home run in postseason history, as of 2009.)
"the bunt" • "the catch" • Alex Anthony • Banner Day • Can't Anybody Here Play This Game? • Chico Escuela • Cowbell Man • Family Day • Frequency • Game 6 • Generation K • George Kalinsky • Grand Slam Single • Helmet Day • Jane Jarvis • Kiner's Korner • "Let's Go Mets Go" • Logos and uniforms of the New York Mets • Lovable Losers • Mathematically Alive • "Meet the Mets" • Mettle the Mule • Michael Sergio • Mr. Met • Mrs. Met • Sidd Finch • Sign Man • "The Boyfriend" • The Odd Couple • The Worst Team Money Could Buy: The Collapse of the New York Mets • Ya Gotta Believe • Mets in Popular Culture