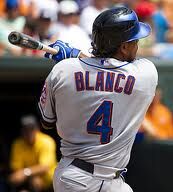 Henry Ramón Blanco (born August 29, 1971) is a catcher playing for the Arizona Diamondbacks.
2010
On December 3,2009, he signed a 1 year $1.5 million contract.
On May 8, 2010, against the San Francisco Giants Blanco hit the second walk off homerun of Citi Field which became his first homerun as a Met. It was the first time in the major leagues that two catchers in back to back days in 24 hours hit walk off homers. He hit the second after Rod Barajas hit the first on May 7, 2010.
On June 4, 2010, Blanco was a bit "Banged Up" as he was replaced by Omir Santos who made his first 2010 major league day view.