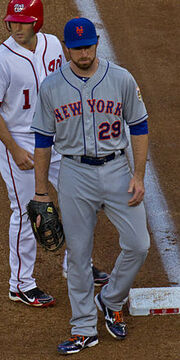 Isaac Benjamin "Ike" Davis (born March 22, 1987, in Edina, Minnesota) is a Major League Baseball infielder for the New York Mets. He is the first player to hit a walkoff homerun at the Shea Bridge.
2008-2009
[
]
He was drafted in the first round of the 2008 draft. He played in the minors since then.
2010
[
]
Age: 24 (born March 22,1987)
Position: First Baseman
Bats: Left Throws: Left
Number: 29
Acquired: Draft
Contract: 1 year $432k
On April 19 he made his major league debut at Citi Field against the Chicago Cubs. He went 2 for 4 with his first RBI Single and he got his first major league hit. On June 8, Davis hit his first career walk off home run against the Padres Edward Mujica in the bottom of the 11th inning.
On June 12 Davis got his first major league stolen base off Baltimore Orioles pitcher Brian Matusz. It was in the top of the first inning with 2 outs after getting a infield hit and then stole the base during Jason Bay's at-bat on a 3-1 count later taken for a strike making it a 3-2 count.
2011
[
]
On May 11 Ike Davis got his left calf injured when colliding with David Wright in a game at the Rockies. Then on May 12 he was placed on the 15-day DL and the Mets brought up Fernando Martinez to take his spot.
2012
[
]
Davis struggled at the start of the season with hitting just like Jason Bay. But he soon began hitting homeruns and snapped out of his slump. On June 18 Davis hit his first career grand slam. On June 27 he hit a homerun that was part of a homerun cycle. For more see Mets Blast Cubs and Davis,Hairston,Murphy homer off Cubs.
2013
[
]
Davis once again struggled at the start of the season with hitting and was eventually sent down along with Mike Baxter and Robert Carson on June 10. They were replaced by Josh Satin,Collin Cowgill and Josh Edgin on June 11. He returned to the team on July 5 as Gonzalez Germen was sent down.
Career Notes
[
]
Active roster
2 Justin Turner * 3 Omar Quintanilla * 5 David Wright * 6 Marlon Byrd * 12 Juan Lagares * 13 Josh Satin * 20 Anthony Recker * 22 Eric Young, Jr. * 28 Daniel Murphy * 29 Ike Davis * 30 David Aardsma * 32 LaTroy Hawkins * 33 Matt Harvey * 35 Dillon Gee * 39 Bobby Parnell * 44 John Buck * 45 Zack Wheeler * 47 Andrew Brown * 50 Scott Atchison * 52 Carlos Torres * 53 Jeremy Hefner * 56 Scott Rice * 58 Jenrry Mejia * 66 Josh Edgin * 71 Gonzalez Germen
Inactive roster
1 Jordany Valdespin * 9 Kirk Nieuwenhuis * 19 Zach Lutz * 23 Mike Baxter * 40 Tim Byrdak * 46 Greg Burke * 73 Robert Carson * -- Armando Rodriguez * -- Chris Schwinden
Disabled list
11 Ruben Tejada * 21 Lucas Duda * 27 Jeurys Familia * 48 Frank Francisco * 49 Jon Niese * 57 Johan Santana
Coaching Staff
Manager 10 Terry Collins * Bench Coach 7 Bob Geren * 1st Base Coach 26 Tom Goodwin * 3rd Base Coach 18 Tim Teufel * Hitting Coach 51 Dave Hudgens * Pitching Coach 59 Dan Warthen * Bullpen Coach 25 Ricky Bones * Bullpen Catcher 54 Dave Racaniello * Bullpen Catcher/batting practice pitcher 78 Eric Langill
Roster by Year
2009 Roster * 2010 Roster * 2011 Roster * 2012 Roster * 2013 Roster
Mets Opening Day Rosters by the year
2008 Mets Roster on April 5, 2008 * 2009 Mets Roster on April 5, 2009 * 2010 Mets Roster on April 5, 2010 * 2011 Mets Roster on April 1, 2011 * 2012 Mets Roster on April 5, 2012 * 2013 Mets Roster on April 1, 2013
Leadership
Key Personnel * Owners * Presidents * Managers * Staff * Executives * Scouts
Other
Season Departures * September Callups * 2009 DL * All-Time Roster * Minors * Years/Seasons