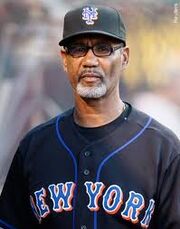 Jerry Manuel (born December 23, 1953 in Hahira, Georgia), nicknamed "The Sage" is a former major league manager. He previously managed the Chicago White Sox from 1998 to 2003 and the New York Mets from the middle of 2008 to 2010 and played in the majors for parts of five seasons in the 1970s and early 1980s. He became the second African-American Manager in Mets history after Willie Randolph.
New York Mets
Edit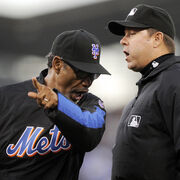 He joined the Mets in 2005 as the first base coach. In 2006 he became the new bench coach until 2008. When Omar Minaya fired Willie Randolph as the Mets manager on June 17, then Manuel who was the Mets Bench Coach was hired to be manager from then. He was manager from 2008-2010.
Manuel's bench coach position was later taken by Ken Oberkfell. On October 3 he signed a 2 year deal with a 3rd year club option.
On October 1, 2010 Sports Illustrated reported that both Manuel and general manager Omar Minaya would be relieved of their respective duties once the regular season ends. They won't be back in 2011. For more see Jerry, Omar Gone. He was later replaced by Terry Collins.
Stengel * Westrum * Parker * Hodges * Berra * McMillan * Frazier * Torre * Bamberger * Howard * Johnson * Harrelson * Cubbage * Torborg * Green * Valentine * Howe * Randolph * Manuel * Collins
Community content is available under
CC-BY-SA
unless otherwise noted.