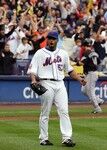 Johan Alexander Santana (born March 13, 1979) is a Major League Baseball starting pitcher for the New York Mets.
2008
[
]
He was traded from the Minnesota Twins to the Mets for Carlos Gomez, Phil Humber, Deolis Guerra, and Kevin Mulvey on January 29. On February 1 Santana and the Mets agreed to a 6 year term contract worth $137.5 million.
He made the second to last start at Shea Stadium against the Marlins.
2009
[
]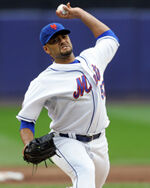 He missed the start of the opening game of Citi Field due to the birth of his 2 children. So instead Mike Pelfrey started for him. He started his first game on April 7 against the Cincinnati Reds. On August 25 he was placed on the 15 day DL and missed the rest of the 2009 Season.
2010
[
]
Age: 33 (born March 13,1979)
Position: Pitcher
Bats: Left Throws: Left
Number: 57
Acquired: Trade
Contract: 6 year $137.5 million
On April 5 Santana started for the Mets on an opening day win to a score of 7-1 over the Florida Marlins and getting the win.
Santana was the starting pitcher for the Mets in The 20 inning game against the St. Louis Cardinals.
In a start on May 2 against Philadelphia, Santana gave up 10 runs in 3 2/3 innings, the worst start in his MLB career. However, in 5 starts since then, Santana has given up only 7 earned runs, striking out 21 and improving his record to 4-2 with a 3.03 ERA.
After his start in Atlanta going 5 innings and was taken out of the game due to a strained pectoral muscle on September 2 even though he was not placed on the DL, but he will not make his next start at Washington against the Washington Nationals. So instead the Mets called up rookie pitcher Dillon Gee to start for him.
For his injury he had surgery on September 14 and was out for the 2010 Season. He has appeared on the first edition of Going Home with Kirk Gimenez.
Homerun
[
]
Santana hit his first major league home run off of Matt Maloney of the Cincinnati Reds on July 6 finishing the game with a complete game shutout.
2011
[
]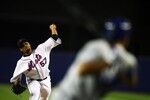 He missed the start of the Season since he was expected to recover from the surgery back in 2010. He his expected to come back near the end of June or early July. Since he didn't return he might return in August or September unless he will return next season and miss this season for the remainder of what is left.
He never made an appearance all season and he hopes he can continue to rehab with the Mets in the minors and make his first appearance in 2012 since 2010.
2012
[
]
Johan returned to the mound for the Mets after missing 19 months due to injury. He made his return on opening day as he pitched 5 scoreless innings while striking out 5 batters. For more on his return see Santana makes his comeback. On May 26 he pitched his first complete game shutout since 2010 against the San Diego Padres. For more see Santana shuts Padres.
No-Hitter
[
]
On June 1 Santana threw the first no hitter in Mets history. He threw a career high 134 pitches. He threw 8 strike outs and walked 5 batters. For more see Mets Get First No-Hitter and Johan Santana Gives Mets First No-Hitter.
Post No-Hitter
[
]
On July 21 he was placed on the DL with an ankle injury as Jeremy Hefner took his spot. He returned to the DL on August 11 as Garrett Olson was DFA'd to make room for him. After struggling with his command in several starts he was officially placed on the DL on August 22 with mild inflammation on his back and shut down for the remainder of the season. His spot went to Collin McHugh on August 23.
2013
[
]
On March 30 the team announced that Johan Santana will miss all of the 2013 season due to the possible re-tear of his anterior capsule that made him miss all of the 2011 season.
Active roster
2 Justin Turner * 3 Omar Quintanilla * 5 David Wright * 6 Marlon Byrd * 12 Juan Lagares * 13 Josh Satin * 20 Anthony Recker * 22 Eric Young, Jr. * 28 Daniel Murphy * 29 Ike Davis * 30 David Aardsma * 32 LaTroy Hawkins * 33 Matt Harvey * 35 Dillon Gee * 39 Bobby Parnell * 44 John Buck * 45 Zack Wheeler * 47 Andrew Brown * 50 Scott Atchison * 52 Carlos Torres * 53 Jeremy Hefner * 56 Scott Rice * 58 Jenrry Mejia * 66 Josh Edgin * 71 Gonzalez Germen
Inactive roster
1 Jordany Valdespin * 9 Kirk Nieuwenhuis * 19 Zach Lutz * 23 Mike Baxter * 40 Tim Byrdak * 46 Greg Burke * 73 Robert Carson * -- Armando Rodriguez * -- Chris Schwinden
Disabled list
11 Ruben Tejada * 21 Lucas Duda * 27 Jeurys Familia * 48 Frank Francisco * 49 Jon Niese * 57 Johan Santana
Coaching Staff
Manager 10 Terry Collins * Bench Coach 7 Bob Geren * 1st Base Coach 26 Tom Goodwin * 3rd Base Coach 18 Tim Teufel * Hitting Coach 51 Dave Hudgens * Pitching Coach 59 Dan Warthen * Bullpen Coach 25 Ricky Bones * Bullpen Catcher 54 Dave Racaniello * Bullpen Catcher/batting practice pitcher 78 Eric Langill
Roster by Year
2009 Roster * 2010 Roster * 2011 Roster * 2012 Roster * 2013 Roster
Mets Opening Day Rosters by the year
2008 Mets Roster on April 5, 2008 * 2009 Mets Roster on April 5, 2009 * 2010 Mets Roster on April 5, 2010 * 2011 Mets Roster on April 1, 2011 * 2012 Mets Roster on April 5, 2012 * 2013 Mets Roster on April 1, 2013
Leadership
Key Personnel * Owners * Presidents * Managers * Staff * Executives * Scouts
Other
Season Departures * September Callups * 2009 DL * All-Time Roster * Minors * Years/Seasons