John Kevin Maine (born May 8, 1981) is a starting pitcher who is currently with the Colorado Rockies.
On January 21,2006 he was traded from the Baltimore Orioles to the mets along with Jorge Julio for Kris Benson. On September 29 he got his first major league in his last at-bat of the season.
In his 2008 season he kept getting hurt by shoulder injuries. In 2009 he had a 7-6 record.
He was placed on the 60 Day DL on the Mets current roster (even though he is out for the season) and they brought up Mike Nickeas in the 3rd catcher role in the mets roster. It was done on September 2,2010.
As of December 3, 2010, the mets have non-tendered contracts to John Maine,Sean Green, Chris Carter which made them free-agents.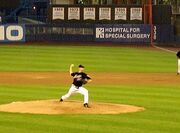 On July 24, 2007, in the bottom of the 4th inning against the Pittsburgh Pirates, Maine hit a 2-run home run to left field and received a curtain call. This was his first home run of his major league career. The Mets won 8–4, and Maine earned his 11th win of the season. Maine earned his Met-leading 12th victory against the Nationals on July 29, pitching a complete game shutout in a five inning rain-shortened game, giving up only a single hit.