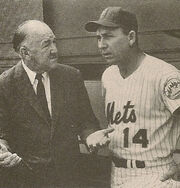 John Joseph Murphy (July 14, 1908 – January 14, 1970) was an All-Star American right-handed relief pitcher in Major League Baseball (1932, 1934–43, 1946–47) who later became a front office executive in the game.
New York Mets
Edit
Murphy served as a coach with the New York Mets as a coach in 1967. From 1968-1969 he served as the GM for the team replacing Bing Devine. Before being GM he was rising to become vice president (which he served as from '65-'69) until Devine returned to the Cardinals. He was replaced by Bob Scheffing as GM and vice president. He replaced Joan Whitney Payson.
Weiss * Devine * Murphy * Scheffing * McDonald * Cashen * Harazin * McIlvaine * Phillips * Duquette * Minaya * Ricco (interim) * Alderson
Community content is available under
CC-BY-SA
unless otherwise noted.