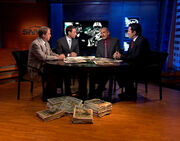 Jonas Schwartz is a sports anchor for SNY. He joined the network in 2009. He currently hosts Daily News Live. He also made a few backup appearances on SportsNite. He even does narration for special presentations on the network. Jonas is the main anchor for SNY's Breaking News which provides the latest news in New York sports. He even sometimes makes appearances on Mets First Pitch, Mets Pre-Game Live and Mets Post-Game Live. He is also a back up host on Mets Hot Stove, Mets Playoffs Live and Mets Talk Live.
Jonas is one of the back-up on field reporters for the New York Mets Season Games as he previously filled in for Kevin Burkhardt. On Pre-Game live he appears on a segment called The Inside Word.
He sometimes fills in for Chris Carlin, Gary Apple, Brian Custer, Eamon McAnaney, Michelle Yu, Kirk Gimenez, Kerith Burke, Jeane Coakley, Steve Gelbs and C.J. Papa for a segment on New York Mets Season Games which is called Game Break.
He also does work for UConn basketball pre/post game show. Prior to joining the network officially in 2009 he was a contributor on several news shows.
External Links
[
]
News & Debate
Daily News Live|Loud Mouths|SportsNite
SNY Originals
Oh Yeah|Baseball Night in New York
Mets
New York Mets Season Games|Mets Pre-Game Live|Mets Post-Game Live|Mets Fast Forward|Mets Insider|Kids Clubhouse|Mets Classics|Mets Hot Stove|Mets Talk Live|Mets Yearbook|Minor League Baseball
Playoff Coverage
Mets Playoffs Live|Mets First Pitch: Playoff Edition|Mets On Deck: Playoff Edition|Mets Playoffs Extra
Specials
The Good Doctor|Kid: A Gary Carter Story|Los Mets: Baseball in the Dominican Republic
Online
Former
The WheelHouse|Mets Weekly|Beer Money|Mets Year in Review|Covino & Rich|Mets First Pitch
Former Specials
Simply Amazin'|Miracle in New York|Baseball in Africa: A Diamond in the Rough|Shea Goodbye: 45 Years of Amazin|Ralph Kiner: 50 Amazin' Years|Going Home|The Brooklyn Cyclones: Baseball on the Boardwalk|Reflections on 9/11: The NY Mets Remember|The 50 Greatest Mets|Mets All-Time Team|R.A. Dickey: A Season to Remember|Mets Hall of Fame: John Franco|Mets Hall of Fame: Mike Piazza|Battle of the Broadcasters|Beat the Booth
Former Online
The Nooner|Kiner's Korner|The Baseball Show|Know Your Enemy|Recapr
Mets On-Air Talent
Gary Cohen|Ron Darling|Keith Hernandez|Nelson Figueroa|Bobby Valentine
SNY's News and Entertainment Team
Gary Apple|Joe Benigno|Kerith Burke|Chris Carlin|Brian Custer|Jeane Coakley|Alexa Datt|Jim Duquette|Courtney Fallon|Steve Gelbs|Frank Isola|Roy S. Johnson|Sal Licata|Andy Martino|Eamon McAnaney|Marc Malusis|Sweeny Murti|C.J. Papa|Larry Ridley|Jonas Schwartz|Doug Williams|Michelle Yu
Other
Alex Anthony|Scott Braun|Don Jamieson|Steve Raab|Mayleen Ramey
Former Mets On-Air Talent
Kevin Burkhardt|Lee Mazzilli|Harold Reynolds|Matt Yallof|Darryl Strawberry|Ralph Kiner|Bob Ojeda
Former SNY's News and Entertainment Team
Steve Berthiaume|Kenny Choi|Chris Cotter|Scott Ferrall|John Franco|David Lee|Siafa Lewis|Meredith Marakovits|Steve Overmyer|Adam Schein|Peter Schrager|Brandon Tierney|Lou Tilley|Kirk Gimenez|Steve Covino & Rich Davis
Former Other
Julie Alexandria|Alissa Ali|Ted Berg|Gabe Cohen|Amanda Cole|Julie Donaldson|Caitlin Fichtel|Neha Joy|Jon Litner|Duke McGuire|Kaitlin Monte|Alexi Panos|Jocelyn Pierce|Heather Prusak|Dan Schachner|Tiffany Simons|Brittany Umar|Ben Wagner|Amber Wilson|Jacob Resnick