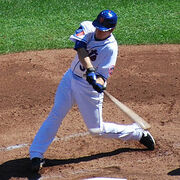 Joshua Michael "Josh" Thole (born October 28, 1986) is a Major League Baseball catcher for the Toronto Blue Jays.
2005-2008
Edit
He was drafted by the Mets in the 13th round of the 2005 draft. He played in the minors since then.
Thole in his first major league at-bat he singled to record his first major league hit on September 3. He was called up on August 31.
On June 24 Rod Barajas had a stiff back and was put on the bench. But he wasn't placed on the DL as the Mets called up Thole and placed Raul Valdes to the minors.
On June 25 Thole made his 2010 Mets debut in a game against the Minnesota Twins at Citi Field in Game 1.
On July 20 Thole hit his first major league homerun.
On October 1, 2010 he hit his first major league walkoff homerun against the Washington Nationals at Citi Field.
Age: 25 (born October 28,1986)
Position: Catcher
Bats: Left Throws: Right
Number: 30
Acquired: Draft
Contract: 1 year $420k
For the season Thole was the backup catcher for Mike Nickeas until Mets win on Bin Laden's Death when Ronny Paulino came up to take Mike's spot. During the 4th inning he hit his first homerun of the year in the first game against the Detroit Tigers as the Mets Roar Tigers.
On July 19 he left the team to be with his wife as they were expecting their first child. On July 21 he returned as the child was born.
On August 6 Thole hit a homerun for his 2nd of the year in Mets Crack Bats for 4. To see more see Turner,Bay,Thole Spark Fire for NL Wild Card Race.
On September 22 nearly his entire hometown of Breese, Illinois came to the ballpark at St.Louis when the mets faced the St. Louis Cardinals as the Mets won to a score of 8-6. For more see Thole Day as Mets Beat Cards.
On May 8 Thole was sent to the DL with a concussion and his spot was taken over by Rob Johnson. He returned on June 1 as Johnson was sent down. That same day he caught Johan Santana's No-Hitter.
On December 17, Thole,Mike Nickeas and R.A. Dickey were traded to the Toronto Blue Jays for John Buck and prospects Travis D'Arnaud, Noah Syndergaard and Wuilmer Becerra.
Community content is available under
CC-BY-SA
unless otherwise noted.