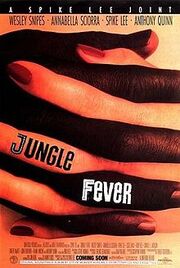 Jungle Fever is a 1991 American drama film directed by Spike Lee, starring Wesley Snipes and Annabella Sciorra. It was Lee's fifth feature-length film. The film mainly explores interracial relationships against the urban backdrop of the streets of 1990s New York City.
Here, Mike Tucci (Frank Vincent) and his sons (David Dundara, Michael Imperioli) watch the Mets on TV. "I'm glad they got rid of Strawberry," one of them declares in voiceover. "He was too much fucking trouble. If he wants his ass kissed, let him go to L.A. and let Lasorda kiss it. Now he says he's a born-again Christian. Fuck born-again. Play the fuckin' game." All the while, another voice is heard sarcastically chanting "Daaaaryl, Daaaaryl..."
However, later on, Gator Purify (Samuel L. Jackson), a black crack addict, "borrows" his parents' color TV set because, he says, he wants to "watch the Mets." When confronted by his brother, Gator grumbles that the Mets lost yet again, referring to them as "sorry mother-fuckers." Of course, Gator's true intention is to sell the TV for drug money. So in the world of Spike Lee, as portrayed in Jungle Fever, no one is perfect. Whites from Brooklyn's Bensonhurst community may be bigots. Blacks from Manhattan's Harlem may be crackheads. One thing they do have in common is that they grouse about the Mets.