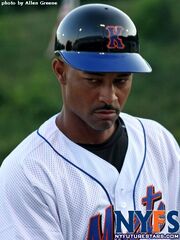 Kevin Lee Morgan (December 3, 1969 in Lafayette, Louisiana) is a former Major League Baseball player and current New York Mets executive. He is also currently the Defensive Coordinator, Coordinator of Instruction/Infield.
Morgan played for the Mets in 1997 on June 17. He had one at bat and played 2 innings at third base. That was his only appearance in the majors.
He was also an assistant in the Front Office from 1998-2000, the Director of Minor League Operations from 2000-2005. He was replaced by Adam Wogan.