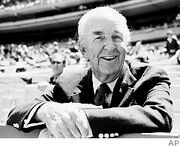 Michael Donald Grant (May 1, 1904 – November 28, 1998) was the chairman and a minority owner of the New York Mets baseball club from its beginnings in 1962 to 1978.
New York Mets
Edit
Grant's interest in baseball stemmed from a long-standing friendship with Joan Whitney Payson, who in the 1960s became the Mets' principal owner. From 1962-1978 as Chairman of the Board in the role of president. He was replaced by Lorinda de Roulet in 1979.
After Payson's death, her daughter, Lorinda de Roulet, assumed ownership of the team and delegated a great deal of authority to Grant.
However, even with the success of the 1969 Mets, Grant's baseball knowledge was often questioned by lifelong baseball professionals. Whitey Herzog, Director of Player Development for the Mets when they won the 1969 World Series, said that Grant "didn't know beans about baseball."
The Mets finished in last place two years in a row in 1977 and 1978. At one point, due to the Mets' futility on the field and low attendance records, Shea Stadium was dubbed by fans as "Grant's Tomb." Grant was fired at the end of the 1978 season.
Community content is available under
CC-BY-SA
unless otherwise noted.