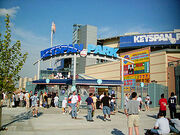 MCU Park (formerly KeySpan Park) is the current home of the New York Mets Single-A farm team the Brooklyn Cyclones located in the Coney Island section of Brooklyn, New York City. The Cyclones have played there since 2001. It was named MCU Park since 2010.
History
[
]
It opened in 01'. MCU Park and the Staten Island Yankees' Richmond County Bank Ballpark were paid for with public money, part of a deal that involved both the Mets and Yankees. The Yankees had to approve the construction of MCU Park, and the Mets had to approve the Yankees' minor league park, since the Major League Baseball organizations share territorial rights to the New York City market, and have veto power over each other (and any other MLB organization). If the combined minor league stadium project did not involve the approval of both the Mets and Yankees, it is likely that it would not have happened.
Naming
[
]
The park's naming rights were sold to KeySpan Energy, a utility company whose primary holding is the former Brooklyn Union Gas, until 2020. However, in 2007, KeySpan was acquired by United Kingdom-based National Grid plc. On January 29, 2010, the Cyclones announced that they had ended the deal with National Grid, because the KeySpan name no longer is in existence. On February 4, 2010, it was announced that the Municipal Credit Union signed an agreement for the ballpark to be called MCU Park in an eleven year naming rights deal.
MCU Park (2010-Present)
KeySpan Park (2001-2009)