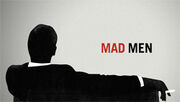 Mad Men is an American television period drama series created and produced by Matthew Weiner. The series premiered on July 19, 2007 on the American cable network AMC and is produced by Lionsgate Television. A seventh season has been announced, which Weiner has confirmed to be the final season.
The show takes place in the 1960's and as for the Mets who were born in 62' have been referenced in the show. In The Gold Violin the 7th episode of Season 2 Ken Cosgrove played by Aaron Staton tries to use the lure of Mets tickets with Jane.
In The Fog the 5th episode of Season 3 Cosgrove drops by Pete Campbell's office with an offer of Mets tickets, which Paul Kinsey takes him up on.
In the show a Mets orange pennant appears in the characters Lane Pryce's office which the character is a Mets fan.