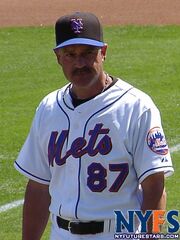 Mark Brewer (born unknown) is a former coach in the New York Mets organization.
Mets
[
]
Brewer has been in the Mets organization since 2005 and has done all pitching coordinating related work. Brewer was the pitching coach for the Mets from 2005-2008, including a year in triple-A when the Mets were in New Orleans. In 2006 he was with the Binghamton Mets. In 2007 he was the with New Orleans Zephyrs. For the 08' season in New Orleans he was replaced by Dan Warthen.
He was the Mets Latin American pitching coordinator in 2008. Prior to that, he spent two seasons as a pitching coach in the Mets farm system, including 2006 with Binghamton. The B-Mets finished third in the Eastern League in ERA (3.61) under Brewers tutelage in 06. Six of the pitchers from that staff went on to pitch in the Major Leagues, including Philip Humber, Matt Lindstrom and Joe Smith. Brewer, advanced to New Orleans (AAA) in 2007 where he helped the Zephyrs to a division title in the Pacific Coast League (PCL).
In 2009 he worked for the Pittsburgh Pirates as the rehabilitation coordinator. Then he came back in 2010 to serve as the pitching coach for the Binghamton Mets once again. In 2011 he spent the season as the pitching coach for the GCL Mets.
In 2012 he was promoted to being the pitching coach for the Buffalo Bisons. He replaced long time pitching coach Ricky Bones. After the end of the season he was let go by the Mets as the pitching coach in the farm system.