We're Getting Mutants in the MCU - The Loop
Play Sound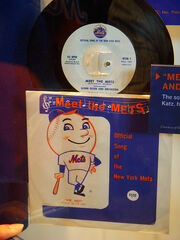 "Meet the Mets" is the fight song of the New York Mets of Major League Baseball. It was written in 1961 by Ruth Roberts and Bill Katz. A rewritten and modernized version was recorded in 1984.
The song first appeared in 1962, heralding the return of National League baseball to New York City. "Meet the Mets" has also been featured in a "This is SportsCenter" commercial starring Mr. Met as well as on Seinfeld ("The Millennium") and Everybody Loves Raymond ("Big Shots"). Rock band Yo La Tengo recorded a version of "Meet the Mets" live on New Jersey radio station WFMU that was included on the 2006 compilation album Yo La Tengo Is Murdering the Classics.
The instrumental of the original version opens and closes Met games on WFAN radio and is used for lineup rundowns during home games on SportsNet New York, while part of the 1984 update opens and closes WFAN's Mets Extra pre- and post-game shows. For the 2009 season, with the closing of Shea Stadium and opening of Citi Field, the 1984 version was edited by WFAN to cut to the instrumental portion just before the singer sings "Hot dogs, green grass all out at Shea / Guaranteed to have a heck of a day." According to the New York Times, the song's original lyrics — "Bring your kiddies, bring your wife / Guaranteed to have the time of your life" — were viewed as "arguably sexist."
In 2008, an updated version the song was recorded with a rap/hip-hop sound, purportedly to appeal to a younger generation. In the second half of the 2009 season, the Mets' first at Citi Field, the original 1962 version was often played in the ballpark during a break in the late innings as a crowd sing-along.
"the bunt" • "the catch" • Alex Anthony • Banner Day • Can't Anybody Here Play This Game? • Chico Escuela • Cowbell Man • Family Day • Frequency • Game 6 • Generation K • George Kalinsky • Grand Slam Single • Helmet Day • Jane Jarvis • Kiner's Korner • "Let's Go Mets Go" • Logos and uniforms of the New York Mets • Lovable Losers • Mathematically Alive • "Meet the Mets" • Mettle the Mule • Michael Sergio • Mr. Met • Mrs. Met • Sidd Finch • Sign Man • "The Boyfriend" • The Odd Couple • The Worst Team Money Could Buy: The Collapse of the New York Mets • Ya Gotta Believe • Mets in Popular Culture