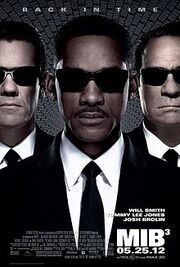 Men in Black is a series of American science fiction action comedy films directed by Barry Sonnenfeld, and based on Malibu / Marvel comic book series The Men in Black by Lowell Cunningham. The first film, Men in Black, was released in 1997, the second film, Men in Black II, in 2002, and the third film, Men in Black 3 was released in 2012. Amblin Entertainment and MacDonald/Parkes Productions produced all three films and distributed through Columbia Pictures.
In the first flim former Mets outfielder Bernard Gilkey had a small role in the 1997 film Men in Black. The climax of the film took place in Flushing Meadows-Corona Park in New York City near Shea Stadium, home of the Mets. Gilkey appeared in his real life role as a Mets outfielder. Gilkey was distracted by a massive spacecraft above Shea Stadium (actually one of the two circular observation towers from the 1964 World's Fair) and was hit on the head by a fly ball.
In the 3rd flim J (Will Smith) remembers a miracle game that will take place soon at Shea Stadium. There, Griffin shares his timeline vision of "his favorite moment in human history", when the losing NY Mets win the World Series. This refers to the 1969 Mets championship. Also set shortly before the Apollo 11 launch in July 1969, Griffin, an alien from the fifth dimension who can see the future, says the Mets' title is his favorite human history moment for "all the improbabilities that helped".
Community content is available under
CC-BY-SA
unless otherwise noted.