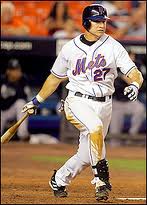 Michael James "Mike" Jacobs (born October 30, 1980) is a first baseman who is a free agent.
He made his MLB day view on August 21,2005 and in his first at-bat he hit a homerun as a Pinch Hitter. On November 23 Mike,Yusmeiro Petit Grant Psomas to the Florida Marlins for Carlos Delgado.
On February 10,2010 he signed a minor league deal with the mets.
Since Jacobs was Daniel Murphy's replacement who was on the DL became the Opening Day first baseman. He was not hitting well and then on April 25,2010 the Mets sent him down to Triple-A Buffalo and he said he will go to the minors. Before that he was DFA'd on April 18.
On July 30, 2010 the Toronto Blue Jays acquired Jacobs from the Mets for a player to be named later.