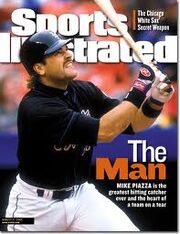 Michael Joseph "Mike" Piazza (born September 4, 1968) is an American former Major League Baseball catcher. He played for the New York Mets from 1998-2005.
Mets
[
]
On May 22, Piazza was traded from the Marlins to the New York Mets for Preston Wilson, Ed Yarnall, and Geoff Goetz. His legendary team was with the Mets. During the first game after the 9/11 attacks Mike hit a 2-run homerun which gave the Mets a 3-2 lead over the Atlanta Braves which resulted in a Mets win.
On April 5, 2011, he was beaten by David Wright for the Mets with the Most Game Winning RBI's and Wright had gotten his 90th of his career.
Mike was was inducted into the New York Mets Hall of Fame on September 29, 2013. He was featured on an SNY special called Mets Hall of Fame: Mike Piazza which focuses on his induction to the hall of fame.