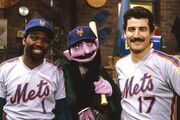 The Muppet Show is a comedy-variety television series produced by puppeteer Jim Henson and featuring the Muppets. After two pilot episodes produced in 1974 and 1975 failed to get the attention of America's network heads, Lew Grade approached Henson to produce the programme for his ATV Associated Television franchise in the UK. The show premiered on 5 September 1976, and five series were produced until 15 March 1981 at ATV's Elstree Studio just north of London, lasting 120 episodes. The series shows a vaudeville or music hall-style song-and-dance variety show, as well as glimpses behind the scenes of such a show. Kermit the Frog stars as a showrunner who tries to keep control of the antics of the other Muppet characters (and his temper), as well as keep the guest stars happy. The show was known for outrageous physical slapstick, sometimes absurdist comedy, and humorous parodies. Each episode also featured a human guest star. As the show's popularity rose, many celebrities were eager to perform with the Muppets on television and in film.
The Mets have been featured on the show as several Mets players have guest starred on Sesame Street, including Keith Hernandez and Mookie Wilson encountering The Count swinging before the pitch was made, and in Episode 2477 they help teach Snuffy how to hit a baseball. Hernandez and Wilson also appeared in the celebrity version of "Put Down The Duckie."
Another episode featured Telly showing his baseball collection to Ron Darling.
In Episode 1575, Herry Monster and Chris explore same and different. They wear Mets hats and red shirts to show how they're the same.
Rowlf the dog show his support for the Mets on The Jimmy Dean Show.
Other appearances of the Mets are in 0136, 0161, 0167, 0267, 0301, 2425, 2493, 2571, 2727, and 3076.