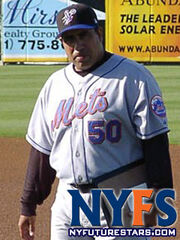 Nelson (Sanchez) Silverio (born August 2, 1967 in Santiago, Dominican Republic) is a former Major League Baseball coach and former minor league baseball player and manager.
Sliverio was the bullpen catcher for the New York Mets from 2003-2004.
In 2005, he was the hitting coach for the Gulf Coast Mets. He spent the 2006 season in St.Lucie , serving as the squads hitting coach. He has been promoted to Binghamton for 2007, once again serving as the hitting coach.
Sliverio left the organization after the 2007 season.