For the current season see 2013.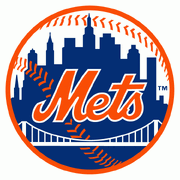 The New York Mets are the best team in baseball. They are located in Flushing, New York. The team was founded in 1962. They have been playing baseball from 62-present. A member of the National League since 62 and a founding member of the NL East in 69. This is the subject and obsession of this site.
1962-1986
Edit

They were formed when both former NL teams Brooklyn Dodgers and the New York Giants were relocated to LA and San Fran to become the Los Angeles Dodgers and San Francisco Giants. The team formed in 1962 managed by Casey Stengel who was the first manager in the teams history. The Mets played their first 2 seasons at the Polo Grounds. While a new stadium was being built called Shea Stadium was needed to be built for the 1964 season. The Mets ended up last place in both years in 62,and 63. In 64 the team had their first all-star game in the team's history.
In 1969 the Mets made it to the World Series for the first time and won beating the Baltimore Orioles. A great memory for the team. The 69 Mets were called the Miracle Mets. In 1973 they made to the world series but lost to the Oakland Athletics. In 1986 they had their second world series win beating the Boston Red Sox. There was a famous moment in Game 6 of that World Series when Mookie Wilson hit a grounder and Bill Buckner missed it and the Mets won.
1997-2000
Edit
In 1997 MLB started Inter-League Play and their first team to play was the New York Yankees and since then the Subway Series was born. In 2000 both the Mets and Yankees faced each other in the world series but the Mets lost to them. To see further articles click 2000 World Series and Subway Series World Series.
2006-2008
Edit
In 2006 the Mets went to first place but lost the 2006 NLCS to the St. Louis Cardinals. In that series former Met Endy Chavez made the "The Catch". In 07 he made a game winning bunt that became known as "the bunt".
They moved into Shea in 64 and played there for 45 years (Games were still being played until 2008 but the final tear down of the Stadium was in 2009 so really in total 44 seasons and 45 years of it still being there.) until 2008. In their final game in 2007 and 2008 the Mets had a collapse against the Florida Marlins to close out the seasons in the final 2 years at Shea Stadium. They lost the wildcard to the Milwaukee Brewers.
2009-2010
Edit
In 2009 the Mets moved to their new home called Citi Field since then. In it's opening year the Mets had a ton of injuries with players for more see 2009 DL. They ended up in fourth place. In 2010 the Mets came back from the year of injuries and again landed fourth place for the 2nd straight year after in 07,08 being in 2nd place.
2011-present
Edit
In 2011 the Mets owners Fred Wilpon and Jeff Wilpon fired GM Omar Minaya and Manager Jerry Manuel as they signed Sandy Alderson as the new GM and Terry Collins as the new manager for the team. In 2012 the Mets culture of not having a no-hitter changed when Johan Santana threw the first at Citi Field against the St. Louis Cardinals. It took place on June 1. For more see Mets Get First No-Hitter and Johan Santana Gives Mets First No-Hitter.
The Mets numbers out of circulation but not retired are #8-Gary Carter, #24-Willie Mays.
The team colors are Blue, Orange, White.
Since 2006 SNY and WPIX have been the 2 main homes for Mets games and it's the teams network. But actually WPIX have been broadcasting Mets Games on TV from 1999. The Mets are a sponsor of the SNY Invitational.
For more on the team check
Active roster
2 Justin Turner * 3 Omar Quintanilla * 5 David Wright * 6 Marlon Byrd * 12 Juan Lagares * 13 Josh Satin * 20 Anthony Recker * 22 Eric Young, Jr. * 28 Daniel Murphy * 29 Ike Davis * 30 David Aardsma * 32 LaTroy Hawkins * 33 Matt Harvey * 35 Dillon Gee * 39 Bobby Parnell * 44 John Buck * 45 Zack Wheeler * 47 Andrew Brown * 50 Scott Atchison * 52 Carlos Torres * 53 Jeremy Hefner * 56 Scott Rice * 58 Jenrry Mejia * 66 Josh Edgin * 71 Gonzalez Germen
Inactive roster
1 Jordany Valdespin * 9 Kirk Nieuwenhuis * 19 Zach Lutz * 23 Mike Baxter * 40 Tim Byrdak * 46 Greg Burke * 73 Robert Carson * -- Armando Rodriguez * -- Chris Schwinden
Disabled list
11 Ruben Tejada * 21 Lucas Duda * 27 Jeurys Familia * 48 Frank Francisco * 49 Jon Niese * 57 Johan Santana
Coaching Staff
Manager 10 Terry Collins * Bench Coach 7 Bob Geren * 1st Base Coach 26 Tom Goodwin * 3rd Base Coach 18 Tim Teufel * Hitting Coach 51 Dave Hudgens * Pitching Coach 59 Dan Warthen * Bullpen Coach 25 Ricky Bones * Bullpen Catcher 54 Dave Racaniello * Bullpen Catcher/batting practice pitcher 78 Eric Langill
Roster by Year
2009 Roster * 2010 Roster * 2011 Roster * 2012 Roster * 2013 Roster
Mets Opening Day Rosters by the year
2008 Mets Roster on April 5, 2008 * 2009 Mets Roster on April 5, 2009 * 2010 Mets Roster on April 5, 2010 * 2011 Mets Roster on April 1, 2011 * 2012 Mets Roster on April 5, 2012 * 2013 Mets Roster on April 1, 2013
Leadership
Key Personnel * Owners * Presidents * Managers * Staff * Executives * Scouts
Other
Season Departures * September Callups * 2009 DL * All-Time Roster * Minors * Years/Seasons
Community content is available under
CC-BY-SA
unless otherwise noted.