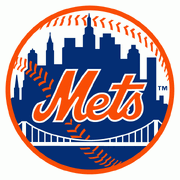 Welcome to The New York Mets Wiki
The New York Mets Wiki is a unofficial wikipedia of the Mets. This is the world's leading site for the current Mets news and information. The site is continuing to grow and expand. If you have any questions on how we edit our articles you can ask us at the Help desk or contact the admin Metss here! For more further help check out the welcome section below at the bottom of this page.
Thank You and Let's Go Mets!
Featured Article
Ralph McPherran Kiner (born October 27, 1922 – February 6, 2014) was an American former Major League Baseball player and announcer for the New York Mets since the team's inception until his death. Though injuries forced his retirement after ten seasons, Kiner's tremendous slugging outpaced nearly all of his National League contemporaries between the years 1946 and 1954. He was elected to the Baseball Hall of Fame in 1975.
He played for 3 teams from 1946-1955. He played for the Pittsburgh Pirates from 1946 to 1953. Then for the Chicago Cubs from 1953 to 1954. The last team was his first in the AL League as he played for the Cleveland Indians only in 1955.
He worked as the Mets broadcaster from 1962 until his death. He has a show since 62' called Kiner's Korner for Mets Post-Game after every Mets game. He used to appear during Mets games broadcasting with Gary Cohen, Keith Hernandez and Ron Darling on SNY and WPIX. He joined SNY in 2006. He did 20 telecasts in 2008.
In 2010 his show Kiner's Korner was added to SNY's website as part of Kiner's Korner Revisited. He was honored by the network in a TV Special called Ralph Kiner: 50 Amazin' Years.
On February 6, 2014, Kiner passed away at the age of 91. The team introduced a patch on the spring training and regular season uniforms. The team unveiled a commemorative logo behind home plate at Tradition Field. On opening day the Mets did the same thing behind the plate at Citi Field and above the left field wall. The Mets Hall of Fame and Museum added a special section called "Kiner's Korner" to honor his passing.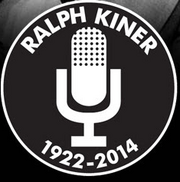 Milestones
1,000th Article
1,000th Image
Help out these pages
Pages that need editing help
Please don't edit these pages just yet until further notice.
Imageless pages
Only send images of them as a Met.
Recommend Pages
Welcome!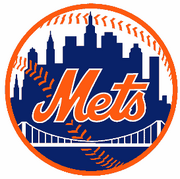 Welcome to our wiki which is about our favorite team the New York Mets which is the subject and obsession of this site.
We are not responsible for changes made to pages that may have reverted your edits. For more on changes see Recent changes.
Glad to have you on board. Let's Go Mets!