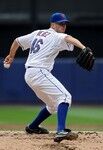 Óliver Pérez Martinez (born August 15, 1981) is a pitcher for the Washington Nationals.
2006
[
]
He was traded to the Mets from the Pittsburgh Pirates along with Roberto Hernandez for Xavier Nady on July 31. Perez was the pitcher for the Mets when Endy Chavez made "the catch". In Game 7 of the 2006 NLCS.
2007
[
]
Perez had a record of 15-10.
2008
[
]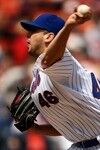 Perez had a good 08 season as his record was 10-7.
2009
[
]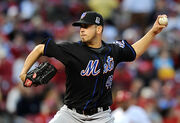 On February 3 he signed a 3 year $36 million contract with the mets. On May 6 he was placed on the DL. From that he returned on July 8. He again was hurt on August 26 after having a record of 3-4. He was added to the 2009 DL.
2010
[
]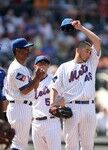 In the second game on May 14, 2010 against the Marlins Perez who gave up 3 walks, and 4 homeruns then it was time to make Oliver Perez to go to the minors. But Perez said no then the Mets put him in the bullpen to work out to solve the problem with him. Nobody knows who will be in for Perez on his next start on Wednesday, May 19, 2010.
Here are the possible players to take Perez spot in the starting pitching rotation
R.A. Dickey got the spot.
On June 5, 2010, The Mets placed Perez on the DL due to a patella tendinitis of right knee.
On July 20, 2010, Perez came back as the Mets send down Justin Turner to Triple-A Buffalo Bisons.
2011
[
]
On March 21,2011, Perez was cut by the mets and the mets will owe him 12 million under his current contract.
On March 23,2011, he signed to a minor league deal with the Washington Nationals.