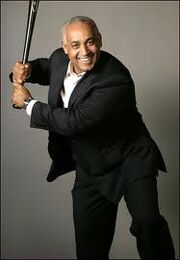 Omar Teodoro Antonio Minaya y Sánchez (born November 10, 1958) is the current Sr. VP of Baseball Operations for the San Diego Padres. He previously served as General Manager for the Montreal Expos and New York Mets. He replaced Jim Duquette and was replaced by interim John Ricco and officially by Sandy Alderson.
New York Mets
[
]
He served as the GM for the New York Mets from 2005-2010.
In the mid-1990s, Minaya left Texas and returned home to join the staff of the New York Mets, working his way to Assistant General Manager behind Steve Phillips and being partly responsible for that team's late-1990s success. In the position he would serve as the Assistant General Manager/International Scouting from 1999-2000 and then as the Senior Assistant General Manager/International Scouting in 2001.
Minaya became the first Hispanic to hold a general manager position in Major League Baseball when he left the Mets in early 2002 to accept the General Manager position with the Montréal Expos. He returned to the Mets as General Manager following the 2004 season.
In 2007 Omar went to establish baseball leagues in Ghana in a special on SNY called Baseball in Africa: A Diamond in the Rough. He was also a guest on The Daily News Live.
Willie Randolf Firing
[
]
He fired former Mets manager Willie Randolph. After Randolph was fired as the Mets manager, Jerry Manuel who was the Mets bench coach was hired to be manager from then on. Minaya also fired pitching coach Rick Peterson and first base coach Tom Nieto.
Tony Bernazard Firing
[
]
He also fired Tony Bernazard during the 2009 season.
No longer on the Mets
[
]
On October 1, 2010 Sports Illustrated reported that both Manuel and general manager Omar Minaya would be relieved of their respective duties once the regular season ends. They won't be back in 2011. For more see Jerry, Omar Gone.
Players Signed to the Mets
[
]
Weiss * Devine * Murphy * Scheffing * McDonald * Cashen * Harazin * McIlvaine * Phillips * Duquette * Minaya * Ricco (interim) * Alderson