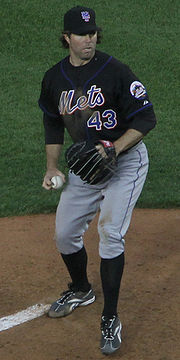 Robert Alan "R. A." Dickey (born October 29, 1974 in Nashville, Tennessee) is a Major League Baseball starting pitcher for the Toronto Blue Jays.
Age: 36 (October 29,1974)
Position: Pitcher
Bats: Right Throws: Right
Number: 43
Acquired: Free Agent Signing
Contract: 2 year deal $1 million
On January 5 he signed with the Mets to a minor league contract with an invitation to Spring Training.
Dickey was a candidate to take over Oliver Perez's spot in the starting pitching rotation. Most likely it would be him. Dickey is going against these guys for the spot.
On May 19 Dickey was the pitcher to take over Oliver Perez's spot in the rotation. He started for the Mets against the Washington Nationals @ Washington.
So far Dickey is 3-0 in just 4 starts as a Met by filling the pitcher's spot where Perez was before this year.
On June 28 Dickey got his first loss as a Met in Game 1 in the Puerto Rico Series. So now R.A. is now (6-1).
On August 13 Dickey threw a one-hit shutout against the rival Philadelphia Phillies at Citi Field. To see that game click Dickey One-Hitter.
On January 19 Dickey signed a 2 year deal with the Mets. On May 26, in a game at the Chicago Cubs Dickey felt pain in the bottom of his heal. He avoided DL and was fine. He was the starter in the Mets Kick A's in 13.
On September 24 Dickey threw 6 innings of no hit shutout ball but it was later broken up in the 7th inning. For more see Mets take doubleheader Sweep of Phillies and Dickey throws 6 innings of no hits yet Mets Win.
On June 13 he threw a one hitter against the Tampa Bay Rays as he struck out a career high 12 batters and his scoreless streak ended at 32 2/3 innings which is a Mets record. For more see Dickey One Hits Rays. He did it again on June 18 against the Baltimore Orioles. For more see Dickey One Hits Orioles.
On October 30 Dickey's option for 2013 was picked up by the Mets which had a $5 million dollar worth.
On November 14 Dickey won the NL Cy Young Award as he became the first knuckleballer to win the award. He is the third Met to do so since Tom Seaver (1969, 1973 and 1975) and Dwight Gooden (1985). With that he also became the NL Strikeout Champion and NL Shutouts Champion. Dickey would later make an appearance on SNY about his 2012 season in a special called R.A. Dickey: A Season to Remember.
On December 17, Dickey,Josh Thole and Mike Nickeas were traded to the Toronto Blue Jays for John Buck and prospects Travis D'Arnaud, Noah Syndergaard and Wuilmer Becerra.
Community content is available under
CC-BY-SA
unless otherwise noted.