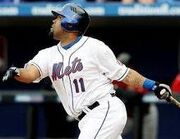 Ramón Abraham Castro (born March 1, 1976 in Vega Baja, Puerto Rico) is a Major League Baseball catcher for the Chicago White Sox.
In December 2004, Castro signed with the New York Mets. In 2005 he was backup catcher to Mike Piazza, with 41 RBIs in 209 at-bats, a career-best .244 batting average, and playing solid defense.
When Piazza became a free agent after the season, it looked like Castro might again get a chance to be a starter, but the Mets traded for Paul Lo Duca who previously had replaced Castro in Florida. Injuries further reduced his role in 2006, limiting him to 126 at-bats.
When Lo Duca left after the 2007 Season, many fans called for Castro to start, but the job instead went to newcomer Brian Schneider. It was most likely due to his injury-riddled career, which became evident once more when he strained his hamstring late in spring training that year, missing the beginning of the season.
Traded to the Sox
Edit
On May 29, 2009, Ramon was traded to the Chicago White Sox for pitcher Lance Broadway after Omir Santos won the backup job with the return of Brian Schneider from the DL.
Community content is available under
CC-BY-SA
unless otherwise noted.