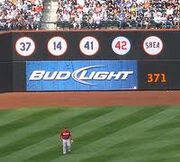 The Mets retired numbers contain of 4 retired numbers worn by 2 managers and 2 players one of which was a manager. Shea is in honor of William Shea who brought the National League back to New York and thus the Mets were formed out of the transition. The team named Shea Stadium after him and it was retired in April of 2008 which was the final season of the stadium.
Tom Seaver is the only Met to win the Sports Illustrated Sportsman of the Year Award in 1969 and was voted the Mets' "Hometown Hero" in a 2006 poll sponsored by DHL. Tom Seaver is the only player to be inducted into the Hall of Fame as a Met and the only player to have his number retired by the Mets.
Major League Baseball retired Jackie Robinson's number 42 on April 15, 1997, when the Mets played the Dodgers at Shea Stadium. Butch Huskey wore the number throughout the rest of his Mets career because of a grandfather clause placed on the retired number by MLB. Mo Vaughn also wore number 42 during his stint with the Mets, because of the same clause.
On the final Opening Day at Shea Stadium, April 8, 2008, the Mets unveiled a sign bearing the name "Shea" next to the team's retired numbers honoring William Shea and his contributions to the franchise.
In 2012 the new configurations of the outfield wall at Citi Field moved the numbers from the top of the former The Great Wall of Flushing from 2009-2011. In 2012 it was added to the back wall of the Party City Deck to the left of the Party City sign since 2012.
Community content is available under
CC-BY-SA
unless otherwise noted.