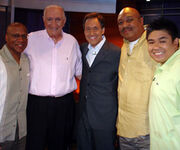 Roy S. Johnson is a sports anchor for SNY. He joined the network in 2012 as a contributor. He has appearead on The WheelHouse.
News & Debate
Daily News Live|Loud Mouths|SportsNite
SNY Originals
Oh Yeah|Baseball Night in New York
Mets
New York Mets Season Games|Mets Pre-Game Live|Mets Post-Game Live|Mets Fast Forward|Mets Insider|Kids Clubhouse|Mets Classics|Mets Hot Stove|Mets Talk Live|Mets Yearbook|Minor League Baseball
Playoff Coverage
Mets Playoffs Live|Mets First Pitch: Playoff Edition|Mets On Deck: Playoff Edition|Mets Playoffs Extra
Specials
The Good Doctor|Kid: A Gary Carter Story|Los Mets: Baseball in the Dominican Republic
Online
Former
The WheelHouse|Mets Weekly|Beer Money|Mets Year in Review|Covino & Rich|Mets First Pitch
Former Specials
Simply Amazin'|Miracle in New York|Baseball in Africa: A Diamond in the Rough|Shea Goodbye: 45 Years of Amazin|Ralph Kiner: 50 Amazin' Years|Going Home|The Brooklyn Cyclones: Baseball on the Boardwalk|Reflections on 9/11: The NY Mets Remember|The 50 Greatest Mets|Mets All-Time Team|R.A. Dickey: A Season to Remember|Mets Hall of Fame: John Franco|Mets Hall of Fame: Mike Piazza|Battle of the Broadcasters|Beat the Booth
Former Online
The Nooner|Kiner's Korner|The Baseball Show|Know Your Enemy|Recapr
Mets On-Air Talent
Gary Cohen|Ron Darling|Keith Hernandez|Nelson Figueroa|Bobby Valentine
SNY's News and Entertainment Team
Gary Apple|Joe Benigno|Kerith Burke|Chris Carlin|Brian Custer|Jeane Coakley|Alexa Datt|Jim Duquette|Courtney Fallon|Steve Gelbs|Frank Isola|Roy S. Johnson|Sal Licata|Andy Martino|Eamon McAnaney|Marc Malusis|Sweeny Murti|C.J. Papa|Larry Ridley|Jonas Schwartz|Doug Williams|Michelle Yu
Other
Alex Anthony|Scott Braun|Don Jamieson|Steve Raab|Mayleen Ramey
Former Mets On-Air Talent
Kevin Burkhardt|Lee Mazzilli|Harold Reynolds|Matt Yallof|Darryl Strawberry|Ralph Kiner|Bob Ojeda
Former SNY's News and Entertainment Team
Steve Berthiaume|Kenny Choi|Chris Cotter|Scott Ferrall|John Franco|David Lee|Siafa Lewis|Meredith Marakovits|Steve Overmyer|Adam Schein|Peter Schrager|Brandon Tierney|Lou Tilley|Kirk Gimenez|Steve Covino & Rich Davis
Former Other
Julie Alexandria|Alissa Ali|Ted Berg|Gabe Cohen|Amanda Cole|Julie Donaldson|Caitlin Fichtel|Neha Joy|Jon Litner|Duke McGuire|Kaitlin Monte|Alexi Panos|Jocelyn Pierce|Heather Prusak|Dan Schachner|Tiffany Simons|Brittany Umar|Ben Wagner|Amber Wilson|Jacob Resnick
Community content is available under
CC-BY-SA
unless otherwise noted.