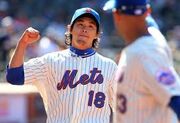 Ryota Igarashi (born May 28, 1979 in Chiba, Japan) is a Major League Baseball Japanese relief pitcher who is a free-agent.
On December 16,2009 he signed a 2 year deal with the Mets.
On April 8 he made his debut.
On April 21 Igarashi hurt himself on a groundball as he came off the mound to make the play but got hurt and was taken out of the game and was replaced by Manny Acosta. Then he came back.
On July 9, the Mets called up Nick Evans and send down Igarashi down to the Minors.
Raul Valdes made his first major league start on October 2 at Citi Field against the Washington Nationals and he didn't get the win so anyway Ryota Igarashi got the win anyway to make his first major league win for Ryota.
Age: 32 (born May 28,1979)
Position: Pitcher
Bats: Right Throws: Right
Number: 18
Acquired: Free Agent Signing
Contract: 2 year $3 million
The Mets signed Taylor Buchholz and Chris Capuano and the he was put for DFA.
He joined the season roster with Jason Isringhausen on April 10, after Blaine Boyer was DFA.
On May 17, Pedro Beato, Ruben Tejada were brought up and Igarashi and Chin-lung Hu were sent down to the minors.
On July 14 he returned to take the spot of the traded Francisco Rodriguez on the roster.
On October 20 he was released by the team.